Four Paws Inn
Establishment at 291 Concession Road 4 & 5 West, Huntsville, ON P1H 2J3, Canada. Please contact Four Paws Inn using information below: address, phone, fax, email, opening hours, customer reviews, photos, directions and more.
Rating
1 /5
Based on 1 reviews
Photos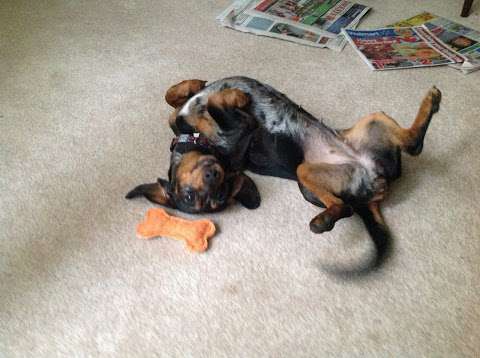 Reviews of Four Paws Inn
carl dixon Added 2017-07-07

★ ☆ ☆ ☆ ☆

The Four Paws Inn Huntsville folks may be dog lovers but in my opinion they just proved themselves careless and possibly stupid.
My dog was left with them for a week by my fiancee, and she made it clear before bringing him to Four Paws Inn Huntsville that he is an un-neutered male who shouldn't be mixing with any other males in a pen, since it was almost definitely going to be trouble. He's a faithful friendly two year-old Schnauser male, incredibly good-natured in every way, unless there's another male being territorial.
Nancy made it clear on the phone that she understood, gave assurances that mixing would not occur, said they are not an over-crowded kennel so they can confidently assure that he'd be safe. My fiancee stressed this again when she dropped off our dog and they said they'd be on it, he would not be at risk.
Today my fiancee went to pick him up and found that she hadn't brought enough cash. She noticed on pulling up that contrary to the assurances that the dogs wouldn't be put in packs, they were in packs in three different pens. Perhaps the error was in leaving him there for twenty more minutes while she went to get twenty more bucks, for in the time she was gone, (after an admittedly incident-free week) Nancy inexplicably decided to let all the dogs into the same pen where our dog was waiting, including an un-neutered male German Shepherd. My girl returned to hear Nancy's words "He's been in a fight". He had a bleeding puncture wound on his front paw and dog saliva around his neck.
Defensiveness and blame-shifting onto us and our dog were Nancy's fall-back strategy.
N: " I let the dogs all run into that pen while you were out" WHAT?!?
N: "Wow, he doesn't back down, does he?" HE SHOULD NEVER HAVE BEEN PUT IN THE POSITION TO DEFEND HIMSELF!
N: "It seemed okay the rest of the week" WHAT DO YOU MEAN, "THE REST OF THE WEEK?" THEY WEREN'T SUPPOSED TO BE TOGETHER AT ALL!
N: "These things happen" NO, YOU MADE IT HAPPEN!
N: "You signed a waiver, you know" THAT IS NOT A PERMISSION TO BE IRRESPONSIBLE WITH OUR BEAUTIFUL ANIMAL!
My fiancee said "I can't just drive off into the sunset like everything's okay. I don't feel good about paying you to have my dog injured."
N: "I gave you a discount on the price coming in!"
Nancy was unconcerned about the dog limping and bleeding as he left. His owner's distress and concern about how I would feel when she got him home was mildly more concerning to Nancy, as if she couldn't face any unpleasantness or anger over her mistake. Nancy was not going to take any blame for breaking her care promises to us.
Draw your own conclusions folks. I can't stand people who won't step up and take ownership of their mistakes.
I tried calling the Four Paws Inn immediately. When they didn't pick up I left a message telling them that we need to talk about this. They're not calling me back, so I guess they're hoping I will go away.
I will now.